What are the steps in Temporary Skill Shortage (482) Visa?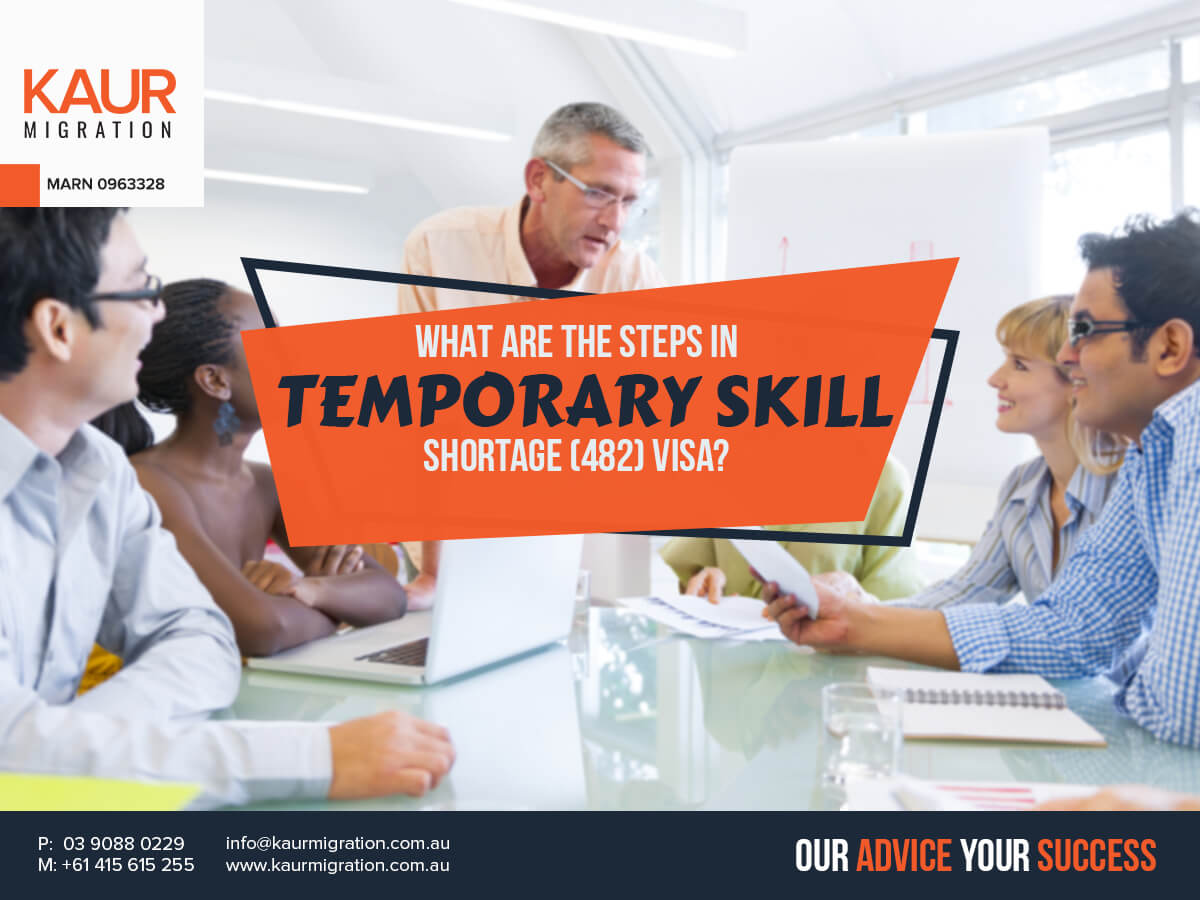 Step 1 – Standard business sponsorship
A business is required to be approved as a Standard Business Sponsor in order to employ a TSS visa holder. To obtain the said sponsorship agreement, the business is required to demonstrate lawful and active operation in Australia. That is:
Identifying the correct Australian Business Number (ABN) to apply under
Registering the business name
Supplying Business Activity Statements (BAS) and financial statements, as well as:

Indicating a commitment to training Australian citizens and permanent residents, and
Compliance with workplace and other Australian laws.
Step 2 – Nomination
Following the Special Broad Service (SBS) application, an employer must nominate a position for their business as one which must be filed by an overseas citizen. As part of this step, there are various requirements to be met:
Labour Market Testing

Demonstrating that the business unsuccessfully advertised for the nominated position
Supply the needed evidence as part of the application
Provide very specific evidentiary requirements

E.g. two advertisements placed within the last 4 months for a minimum period of 28 days, but the alternative evidence is still required.

Note: Employers are encouraged to seek professional advice to make sure that the labour market testing provisions are met.

Salary Level

The compensation must be above the Temporary Skilled Migration Income Threshold (TSMIT) which is set by the Department of Home Affairs each year and is currently $53,900 plus retirement.
The proposed salary must be within the market rate for the position. This ensures that the applicant will be paid in line with Australian employees in a similar position.

Note: Some occupations will be subject to caveats that set a minimum remuneration level that is above TSMIT.

Training Levy

The Skilling Australians Fund (SAF) levy must be paid at the nomination stage and will make nominating employees a considerably more expensive undertaking for a business.
The charge will be calculated according to the number of years for which the visa is required, as set out in the nomination, and will be payable in full at this time.

| | |
| --- | --- |
| Small Business (turnover less than $10 M) | $1200 per year or part thereof |
| Large Business | $1800 per year or part thereof |

Note: If the employee is applying for a four-year visa, this will require the four annual payments to be made at the time of application. (For example, if a large business nominates an employee for a four year TSS visa, this business is liable to pay $7,200 when the nomination is made.)
Step 3 – Visa application
The nominee must demonstrate that they meet the requisite skill level for their occupation, as well as health and character requirements.
References:
https://www.homeaffairs.gov.au
---