Tasmania State Sponsorship: Part – 1 (Visa subclass 190)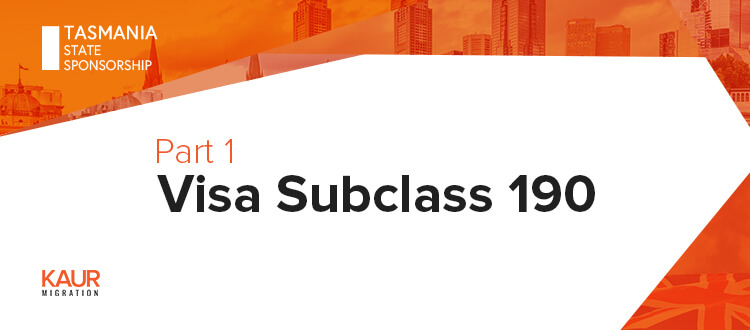 What can you do with this visa?
This is a permanent visa that allows you to live and work in Tasmania.
Criteria
State nomination from Tasmania provides you with 5 additional points to help you qualify for a visa under the Department of Immigration and Border Protection (DIBP) point test.
If you are nominated by the Tasmanian Government for this visa, you must live in Tasmania for two years after the visa has been issued.
Nomination Categories
Tasmanian Graduate:

You must have studied full-time and on-site at a Tasmanian tertiary institution for a minimum of one academic year (46 weeks). Wherein both the course and institution you are into must be CRICOS registered.

Family in Tasmania

Under this category, you must have a family member that falls in one of the following category:

An Australian Permanent Resident or an Australian Citizen
They have lived in Tasmania for 12 months or more
They must either be your parent, child, sibling, aunt, uncle, first cousin, or grandparent
They must have agreed to support you when you arrive in Tasmania and assist you in the process of gaining employment when you get there.

Job Offer

You must have a formal job offer for a job that is based in Tasmania and in-line with your skills assessment (for a minimum of 35 work hours per week).
You must provide an evidence of the job offer to be attached to the application (this could be a contract or formal letter providing an offer of employment).
All of the three categories requires that:
Your nominated occupation must be on the Consolidated Sponsored Occupation List (CSOL).
You must have genuine intention to live and work in Tasmania as well as sufficient funds to cover all your relocation and resettlement costs.
The Department of State Growth is responsible for issuing state nominations for the subclass 190 permanent resident visa. To be eligible to apply, you must fulfill the requirements set by the Department of Immigration and Border Protection (DIBP).
Other Requirements
English Language Requirement

Applicant for the visa subclass 190 must be able to satisfy the English language requirements as set out by the department of immigration and border protection. Applicant must have at least 'competent English' and provide evidence of this with a recognised English language test or hold a passport of the UK, Ireland, the USA, Canada or New Zealand.

Financial Capacity declaration

A financial capacity declaration must be signed and attested in front of an approved authorised officer.
How to Apply?
The following are the documents required by DIBP:
An EOI from SkillSelect
Declaration of financial capacity
Short curriculum vitae (CV), outlining your skills and education
Copy of your passport bio page
Copy of your skills assessment
Copy of your English language testing results
Copy of the Tasmanian job offer or letter of interest from an employer for work you will do in Tasmania
Copy of your academic transcript
If you are applying under the Family Skilled Migration category:
Statutory Declaration of family member
Proof of residence of family member (Residential agreement, utility bill, or Council rates)
One to two page summary of why you want to live in Tasmania which includes a statement of commitment to live and work in the state.
It is important to note that all application form documents must be completed in English and that there is no fee charged by the Tasmanian Government for visa nomination.
Conclusion
Tasmania offers a wide range of employment opportunities for skilled migrants, as well as a great lifestyle in one of the world's most beautiful environments.
References
---