Simplified New Temporary Activity Visa Framework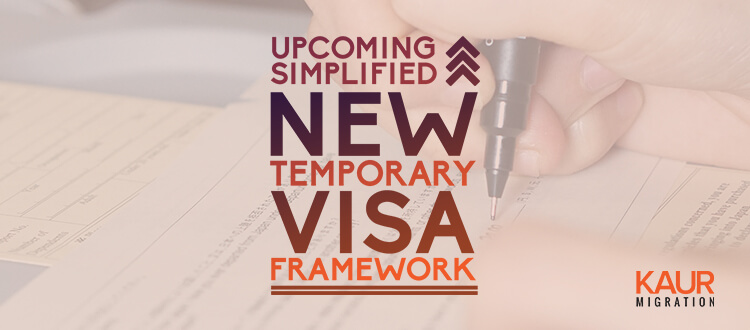 Good news to everyone who wishes to do temporary activities in Australia! New temporary activity visa framework has been proposed and to be introduce. In this article you will be able to know more about the new temporary visa framework.
Generally, temporary visas refer to all visas that have a limited time of validity. In fact, the screening for entry on a temporary visa is much less thorough than compared to the screening for a permanent visa. Also, all permanent visas include the right to work and seek employment in Australia but not all Australian temporary visas do.
Changes and reforms to the temporary activity visa framework will be introduced next month. This was recommended by the Australian Government which is subject for final approval by the Governor-General.
The new framework is made to simplify the current temporary visa framework. Proposed changes in this framework includes the following:
Collapse of six existing sponsor classes into one sponsor category
Removing some sponsorship and nomination requirements for specific short stay activities
Introducing the ability to lodge applications online
Starting 19 November 2016, the following visas would be closed to new applications:
Subclass 401 Temporary Work (Long Stay Activity) visa
Subclass 402 Training and Research visa
Subclass 416 Special Program visa
Subclass 420 Temporary Work (Entertainment) visa
Subclass 488 Superyacht Crew visa.
Take note that all applications lodged before 19 November 2016 would be processed under pre-19 November 2016 legislation. These visas will be incorporated within the proposed new temporary activity visa framework.
The four new visa subclasses to be introduce will be the following:
Subclass 400 Temporary Work (Short Stay Specialist) Visa

This visa is for individuals who seeks to enter in Australia and undertake a highly specialised, non-ongoing work, or in limited circumstances, participate in an activity or a work related to Australia's interest.

Subclass 403 Temporary Work (International Relations) Visa

This visa is for individuals who enters in Australia

Under a bilateral agreement to represent a foreign government or teach a foreign language in an Australian school
Undertake full-time domestic work for a diplomat
Enter as a person with statutory privileges and immunities
Participate in the Seasonal Worker Programme

Subclass 407 Training Visa

This visa is for individuals who enters in Australia to undertake an occupational training or participate in classroom-based professional development activities.

Subclass 408 Temporary Activity Visa

This visa is for individuals to enter in Australia for a range of intended purposes that includes:

Work in the entertainment industry
Participate in a non-ongoing cultural or social activities at the invitation of an Australian organisation
Observe or participate as an academic in a research project
Undertake full-time religious work
Participate in a special programme to enhance international relations and cultural exchange
Participate in high-level sports (including training)
Work in a skilled position under a staff exchange arrangement
Participate in an Australian government endorsed event
Work as a superyacht crew member
Undertake full-time domestic work in the household of certain senior foreign executive
For Sponsorship, from 19 November 2016, you would need to apply online for approval as a temporary activities sponsor if you want to sponsor a Subclass 407 Training visa or Subclass 408 Temporary Activity visa applicant that requires sponsorship.
Note: Paper applications would not be available.
If you were approved before 19 November 2016 as a:
Long stay activity
Training and research,
Professional development
Entertainment
Special program or Superyacht Crew Sponsor
You would be able to use this approval to sponsor a Subclass 407 Training visa or Subclass 408 Temporary Activity visa applicant (who is engaging in the relevant activity) during the transitional period or until your approval ceases (whatever is earlier).
In conclusion, this new visa framework is designed to make applying for a temporary visa easier.
The changes can be shown on the diagram below:
References
---