Seize the opportunity to study in Australia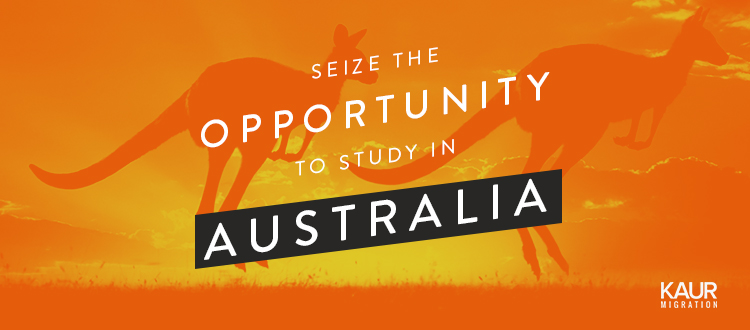 Are you ready to make your dreams come true? Are you prepared enough to go for it? Well if all your answers to these questions are "yes" well better check this out.
Worldwide education is one of Australia's five pillars of economic expansion. The Australian Government recognises the strong industrial development and social contribution of our international education sector and is committed to support the cultural advancement by facilitating the visa process for genuine overseas students.
Studying in Australia is really a great privilege because you've got a chance to know different culture and explore the so-called "Land down under". Every year an increasing number of students migrate to Australia for better prospects. Australia's booming economic is phenomenal. Many students would welcome the chance to spend some time in Australia studying, as long as certain conditions are met. Before you get too excited about it ensure you already have processed your visa application in the right way or a migration agent could be a perfect partner for you. We aim to provide the best option for you and it is very important that you know the rules in having a student visa in Australia.
There are a number of conditions associated with being granted a Student Visa, the most notable conditions that the students must required are to maintain adequate health insurance for the duration of their stay, they may not work unless they apply for a separate visa to do so and they must remain in full-time education. Furthermore, each applicant will be evaluated depending on country from which a passport is being held and the type of visa required. The assessment level is outlined to specify how likely a student is to comply with the conditions of their visa.
Moreover, you must be proficient in English language, must attend a course or part of a course full time, and that course must be offered by an education or training provider registered with the Australian Government as accepting overseas students. The assessment levels range from 1 to 5 and the higher the level, the more supporting documents will be required to reassure the visa application in terms of the student's ability to support themselves and their fluency in the English language. The conditions are far more detailed than this but this gives an idea of what is required to apply for a Student Visa.
Recently, the immigration website (DIBP) made new changes last July, a reduction in the number of student visa sub-classes from eight to two. These changes will simplify the student visa framework, significantly reduce red tape, create a level playing field for all education providers and deliver a more targeted approach to immigration integrity.
These are the two changes made by DIBP:
Student visa (subclass 500)
This visa allows you to study full-time course in a recognized educational institution in Australia. Once you have applied for this visa, you need to submit additional information to your ImmiAccount, you can be in or outside Australia when the visa is decided.
According to DIBP Website to be eligible for this visa you must have:
1.) been accepted to study full-time in a registered course at an educational institution in Australia
2.) organised appropriate welfare arrangements for the duration of your intended stay in Australia if you are under 18 years of age.
The application should be submitted online and if you can't provide the documents requested, your visa application could be declined. And, after the application submitted, you are required to upload additional information into ImmiAccount. If you provide your documents through any other channel, it may result to refusal or delays.
In line to that, when you apply for this visa your family can accompany you, one of the advantage to have this visa is you and your family can both stay and work in Australia in a specified number of hours until you graduated.
Usually the applications it may take four weeks to decide but it will depends on certain situations like these following conditions:
1.) If you were required to undergo health checks
2.) If you need to provide biometric information
3.) If you have forwarded all supporting documents as soon as possible for your visa application
Student Guardian visa (subclass 590)
This is for clients who want to stay in Australia as the guardian of a student and is a parent or close relative (over 21 years of age) of an applicant or a current Student visa holder who is under 18 years of age.
If you are applying for a student Guardian Visa and you have a child less than 6 years of age, your visa will not be granted. Nevertheless under very limited situations, as per DIBP website you may be eligible for a Student Guardian Visa with these following qualifications:
1.) You must meet health and character requirements
2.) You need to have enough money to support yourself, any dependants accompanying you and the student.
3.) Must have adequate health insurance for you and any dependants coming with you
4.) You should not owe any money to the Australian government or have arranged to repay any money owed
5.) You should only stay in Australia temporarily
6.) Must provide biometric information if we ask for it.
You must hold a current substantive temporary visa if you are applying for this visa but these following visas are not included:
1.) Domestic Worker (Temporary) – Diplomatic or Consular visa (subclass 426)
2.) Temporary Work (International Relations) visa (subclass 403) in the Domestic Worker (Diplomatic or consular) stream
3.) Diplomatic (Temporary) visa (subclass 995) - primary visa holder only. This means a family member of a Diplomatic (Temporary) visa (subclass 995) can apply for a Student visa in Australia.
4.) Transit visa (subclass 771)
5.) Visitor visa (subclass 600) in the 'Sponsored Family' stream or in the 'Approved Destination Status' stream.
DIBP explained that a substantive temporary visa is any visa except a bridging visa, criminal justice or enforcement visa. It allows the visa holder to remain temporarily in Australia. You must obey and need to follow different visa conditions and laws set by Australian government. These conditions may apply to you and your family members. If you breach your visa conditions your visa could be disapproved.
DIBP visa conditions might include, among others:
1.) Student guardian must remain with nominating student and provide for their general welfare, accommodation and support
2.) Student guardian must not leave Australia without the nominating student
3.) Student guardian must maintain adequate health insurance for yourself and any dependent children living with you
4.) Student guardian must not work while in Australia.
Now, have you chosen what is best for you? If yes again, the next thing you should do now is to process necessary documents needed for your visa application. Prioritizing your future helps you to make your next move your best move. It allows you to remain balanced and give your energy to the most important and pressing matters. Your education is your ticket to the next-level of your success. Start your best move now and think wisely for a brighter future. Start your journey here in Australia and for any migration intentions, we can be your visa partner, you can visit www.kaurmigration.com.au for more information.
---