Requirements for the application of Northern Territory Nomination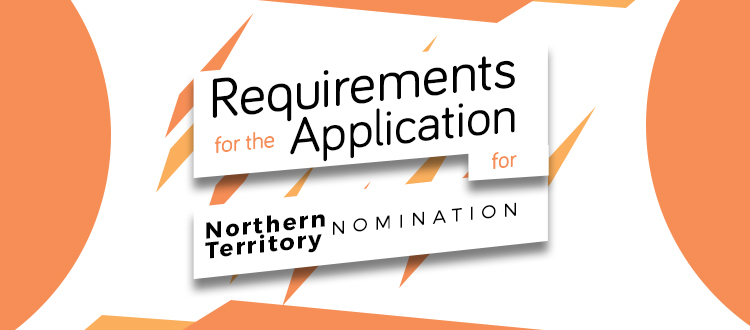 The application will be considered by the NT Government if:
• Your skilled occupation is listed on the NT's Migration Occupation List, or
• You have a skilled occupation that is on the DIBP Consolidated Sponsored Occupations List (CSOL) but not on the NT's Migration Occupation List where you are able to provide independent evidence of positive employment prospects in the NT either in your skilled occupation or a closely related skilled occupation, or have successfully completed your enrolled course – the eligible study period must be full time and no less than two years at a college or university campus in the NT, or
• You have a skilled occupation on the CSOL and can demonstrate strong, well established family connections in the NT, or
• You meet the NT residency and work requirements if you are living in Australia..
How to apply for NT Nomination?
All applications and submissions for NT nomination must be in English. Supporting documents that are in another language must be accompanied by a certified English translation.
• A completed NT Government 190 and 489 Nomination application form.

• A certified copy of his skills assessment for the occupation he has nominated provided by the relevant Australian Assessment Authority. A copy of his current, detailed curriculum vitae / resume.

• Evidence of recent previous employment in the occupation for which he has provided an assessment (Note: All applicants outside Australia are required to provide verifiable evidence of full time employment in their nominated occupation for no less than 12 months out of the last twenty-four (24) months or alternatively have Australian qualifications).

• Certified copies of his qualifications and technical certificates and academic transcripts.

• Certified copies of the identity page from his passport and for any dependent family members (if he is currently in Australia or has previously worked or studied in Australia he needs to also include copies of his visa labels or email notifications).

• Verifiable evidence of English proficiency, where this is required. At present the NT Government can only verify IELTS and Pearson results however applicants who are taking the Pearson English test are required to select NT at the time of registering to enable the NT Government to verify the results.

• Evidence of his financial capacity / net assets to settle in the NT (any support networks he has in the NT will be taken into consideration). This is not applicable to NT residents and NT graduates.
---