Pathways for Skilled Regional (Provisional) Visa – State or Territory nominated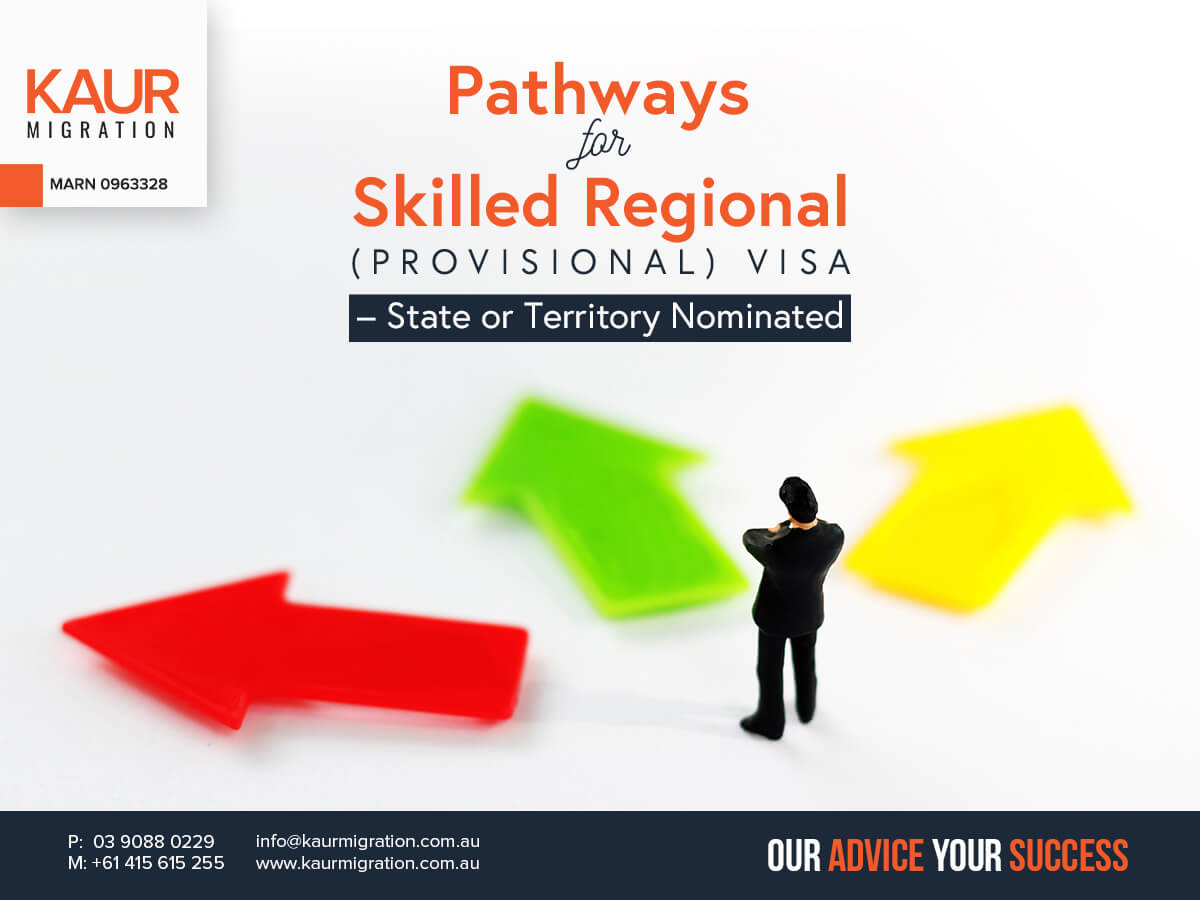 Skilled Regional (subclass 489) Visa is a provisional visa that allows Skilled workers to live and work for up to four years in regional areas and might lead to the permanent Skilled Regional  visa.
The following are the three pathways to get the visa:
First, Extended stay pathway this is for the applicants who complied all the visa conditions for at least two years before they apply for this visa and holds one of the following provisional visas:
Skilled—Regional Sponsored visa (subclass 475)
Skilled—Regional Sponsored visa (subclass 487)
Skilled—Independent Regional visa (subclass 495)
Skilled—Designated Area Sponsored Provisional visa (subclass 496)
Second, Invited pathway this is for the applicant who is invited to apply this visa if sponsored by an eligible relative (it can your partner or partner's parent, child or step child, brother or sister (including adoptive or step brother or sister), aunt or uncle (including adoptive or step aunt or uncle), niece or nephew (including adoptive niece or nephew), grandchild or first cousin) or nominated by an Australian State or Territory government agency.
Third, Subsequent entry pathway this is for applicants who has a family who holds already a skilled regional (provisional) visa (subclass 489) or a subclass 475, 487, 495 or 496 visa.
​
To be eligible for this visa with the above mentioned pathways:
an applicant can be in or outside Australia when applying for the visa and when a decision is made
an applicant must meet health requirement
an applicant must meet character requirement
an applicant must not have any outstanding debts to the Australian government
Thus, with this visa an applicant may be eligible to apply for permanent residency through the Skilled Regional (subclass 887) Visa.
Reference
https://www.homeaffairs.gov.au/trav/visa-1/489-
http://www.migration.sa.gov.au/skilled-migrants/skilled-visa-options
---