Key tools for a Genuine Temporary Entrant (Student Visa Application)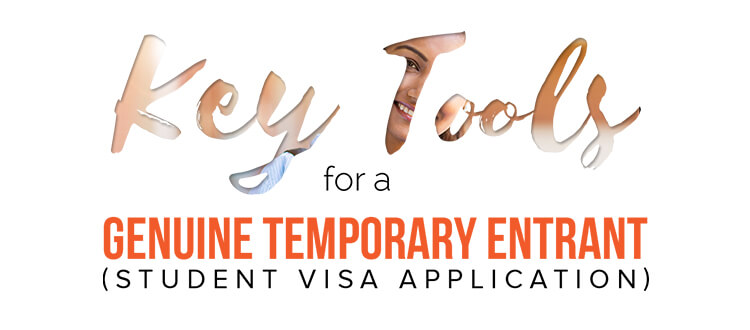 Studying in a multicultural country like Australia has always been a dream of many students who wants to take up short courses, bachelor's degree, masters or even doctorate courses. Australia has proven itself to provide quality education over the years. That's why many are hoping to take the chance and grab the opportunity to study. However, for overseas students, there is a process needed to go through. And it's very essential that all applicants must meet all those criteria and requirements set by the department to be able to qualify to do further studies and such.
In this article, we will get you into detail of one of the key requirement to all student visa application which is the Genuine Temporary Entrant or GTE requirement.
By definition, the genuine temporary entrant (GTE) requirement is an integrity measure to ensure that the student visa programme is being used the way it should be intended and not as a way for international students to maintain an ongoing residency in Australia.
The GTE requirement applies to all student visa applicants. The officer assessing the visa application considers whether the individual circumstance of the student indicates that their intention is really for a temporary stay in Australia. For this, Applicants must satisfy the department.
In addition, Student visa applicants should provide evidence of meeting the GTE requirement in their application form. This must include a statement in response to the question in the form and/or documentation to support claims made in the statement such as:
Evidence of employment or;
A copy of educational qualifications
Moreover, even if the applicant is using an agent, the statement should be written by him/her. Also, he/she must provide a statement addressing the GTE requirement in English in the application form. Or if the applicant is not comfortable writing his/her statement in English, he/she can write it in his/her own language provided that they have it translated and provide the translation in their application. A decision about whether an applicant has met this requirement can be made based on the information they provided in their application alone so it is important to answer this question.
Furthermore, when assessing the GTE requirement, the department will consider the requirements set out in the Ministerial Direction 69. To assess this, the department will consider the following:
Applicant's circumstances
Applicant's immigration history
If under 18 years of age, the intention of applicant's parent, legal guardian or spouse
Any other relevant matter.
The GTE requirement provides a useful way to help identify those applicants who are using the student visa programme for motives other than gaining a quality education. The GTE requirement is not designed to exclude those students who, after studying in Australia, go on to develop the skills required by the Australian labour market and apply to obtain permanent residency.
GTE assessments
Insufficient documentation addressing the GTE requirement can result in delayed processing. Examples of documentation can include, but is not limited to:
A statement of purpose
Evidence of their economic circumstances in their home country
Ties to their home country
Evidence of past study and work experience
In conclusion, it is important for all applicants to meet all the criteria in the GTE requirement. There is no easy way to get it but at the end, all hard work and patience in this process has a rewarding outcome for those who succeed.
Reference(s)
---