Job Ready Program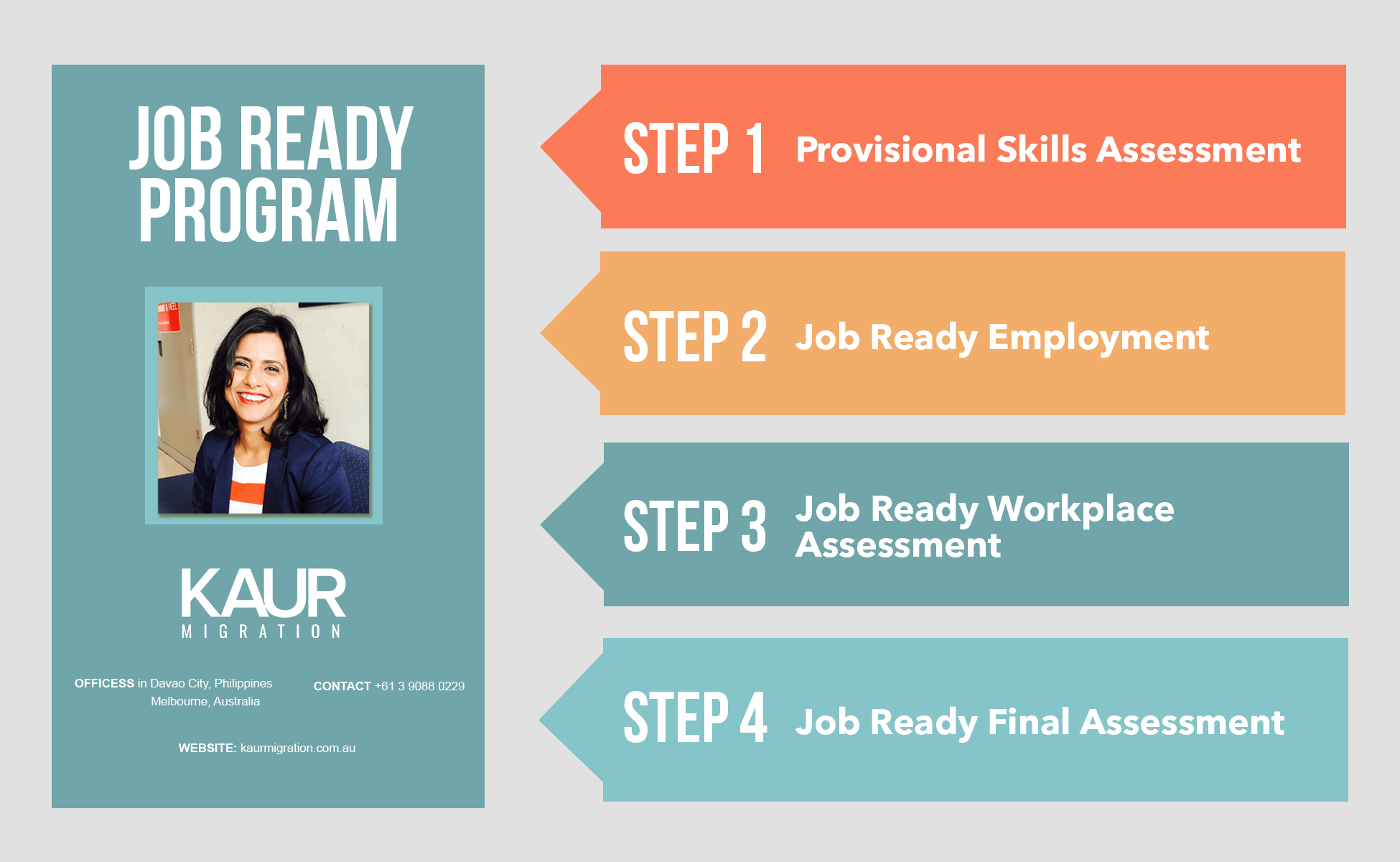 International student graduates seeking a skill assessment for migration purposes has a four-step employment-based skill assessment program for the Job Ready Program.
It is commonly used for those who cannot pass their skills assessment for general skilled migration purposes for those wanting to apply in Australia permanently.
Eligibility for the program
Step 1 – Provisional Skills Assessment
Should be held an international student visa to study in Australia
Will complete the qualification relevant to an occupation assessed by TRA and awarded by a CRICOS (Commonwealth Register of Institutions and Courses for Overseas Students) registered training organisation and achieved as a result of a study in Australia
It has evidence of a minimum of 360 hours of employment and/or a vocational placement relevant to your qualification and nominated occupation that was completed in an Australian workplace within three years prior submitting an online PSA application.
Step 2 – Job Ready Employment
Must a successful PSA outcome
Should lodge an application for, or hold a visa with work rights which provides sufficient time to complete the full requirements of the JRP (in most cases this will be the Temporary Graduate Visa subclass 485)
Secured eligible employment
It should be less than 4 months remaining on your student visa, if applicable.
Step 3 – Job Ready Workplace Assessment
To be eligible for a JRWA, you must have provided your TRA Liaison Officer (TRA LO) with:
Must be an acceptable pay evidence at least 863 hours of paid employment over a minimum of six months to support that it has been registered via the online portal and approved by TRA
And a Job Ready Journals for a minimum of six months that have been signed by your nominated supervisor and approved by TRA.
Step 4 – Job Ready Final Assessment
Should be a Successful Provisional Skills Assessment outcome (Step 1)
And a successful Job Ready Workplace Assessment outcome (Step 3)
And provided your TRA Liaison Officer (TRA LO) with:
That acceptable pay evidence support at least 1725 hours of paid employment over a minimum of 12 months in your nominated occupation that has been registered via the Online Portal and approved by TRA
And 12 months of Job Ready Journals signed by your nominated supervisor and approved by TRA
Reference: http://www.migration.sa.gov.au/
---