Information for Skilled Migration Visa Priority Processing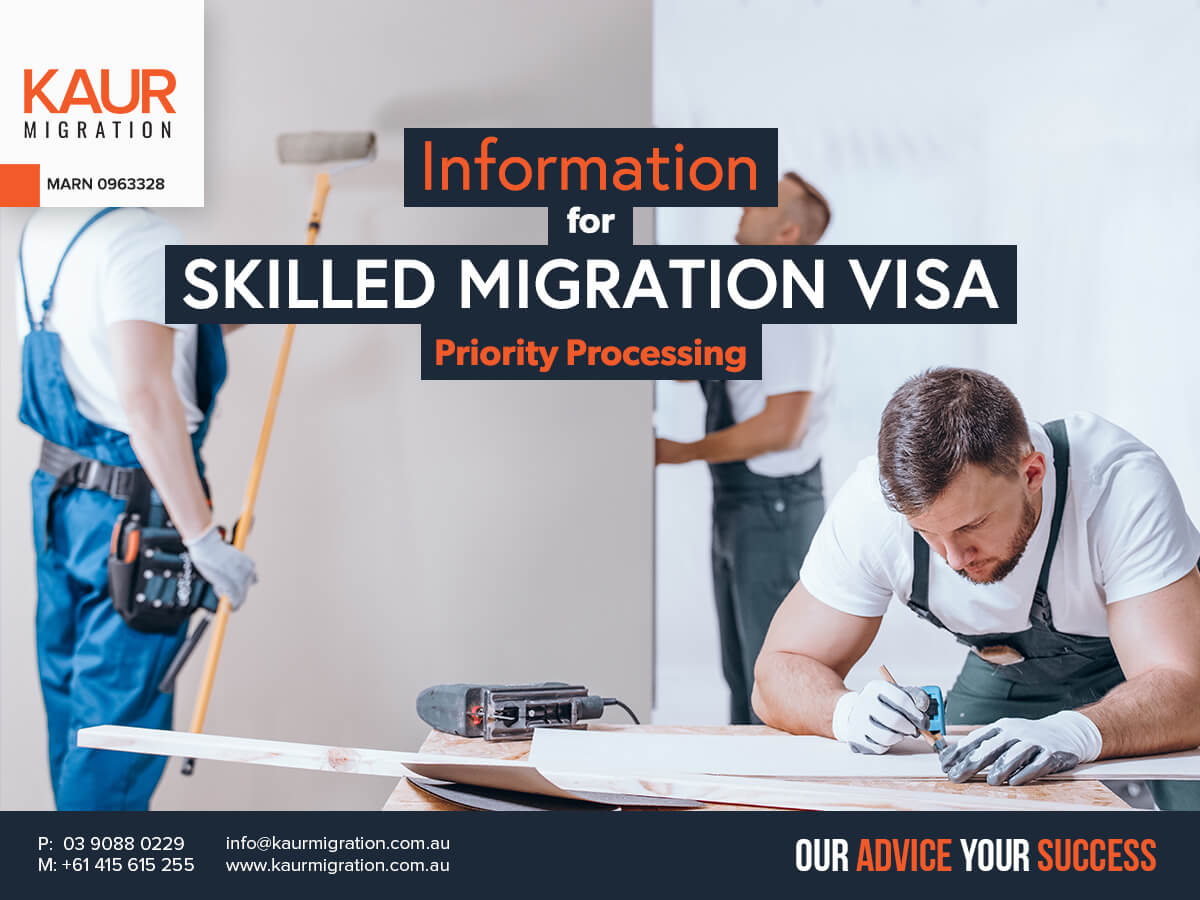 The Regional Employer Sponsored visa will be given the highest processing priority. Department will be able to consider and finalise the visa applications by priority that the Minister considers appropriate through this priority processing arrangements. This arrangement will be applied to the applications for the following:
Regional Sponsored Migration Scheme (RSMS)
Employer Nomination Scheme (ENS)
Points-tested skilled migration.
Highest priority will be given to visa subclass 186, 187, 189, 190, or 489 in which each priority processing group which will be lodge in Skill Select.
The reason of the changes of priority processing arrangements refers to the needs of industry by targeting skills which are in demand in some sectors. And this is subject to change in response to Australia's economic situation and does not change visa eligibility criteria. Departmental case officers cannot process applications if it is not in a set order. And officers must follow the minister's direction about the priority processing.
Priority Processing are grouped in the following:
1st Priority group - these are the applications who are applying under the RSMS
2nd Priority group - these are the applications under ENS
3rd Priority group - these are the people who applied for applications and are nominated by a state or territory government agency
4th Priority group - these are the skilled migration applicants with a nominated occupation on MLTSSL - schedule 1 which includes both independent and family sponsored applications.
5th Priority group - these are the skilled migration applicants who are not nominated by a state or territory government and also not on the MLTSSL
Here are the following skilled migration visas that are subject to priority processing directions
Subclass 176 Skilled Sponsored Visa
Subclass 189 Skilled Independent - Points-tested stream Visa
Subclass 190 Skilled Nominated Visa
Subclass 487 Skilled Regional Sponsored Visa
Subclass 489 Skilled Regional (Provisional) Visa
Subclass 495 Skilled Independent Regional (Provisional) Visa
Subclass 496 Skilled Designated Area-sponsored Visa
Subclass 497 Graduate Skilled Visa
Subclass 861 Skilled Independent New Zealand Citizen Visa
Subclass 862 Skilled Onshore Australian–sponsored New Zealand Citizen Visa
Subclass 863 Skilled Designated Area sponsored New Zealand Citizen Visa
Subclass 880 Skilled Independent Overseas Student Visa
Subclass 881 Skilled Australian-sponsored Overseas Student Visa
Subclass 882 Skilled Designated Area-sponsored Overseas Student Visa
Subclass 885 Skilled Independent Visa
Subclass 886 Skilled Sponsored Visa
Thus, here are the summary of the following skilled migration visas that are exempt from priority processing directions
Subclass 189 Skilled Independent (New Zealand) stream Visa
Subclass 887 Skilled Regional Visa
Migration visa applications remitted by the Administrative Appeals Tribunal (AAT) to the department
Holds an eligible subclass 495, 496, 475 or 487 visa applications for Skilled Sponsored Provisional (subclass 489) visa in the second provisional visa stream
Applications from subsequent entrant applicants
---