Guidelines for Statement of Purpose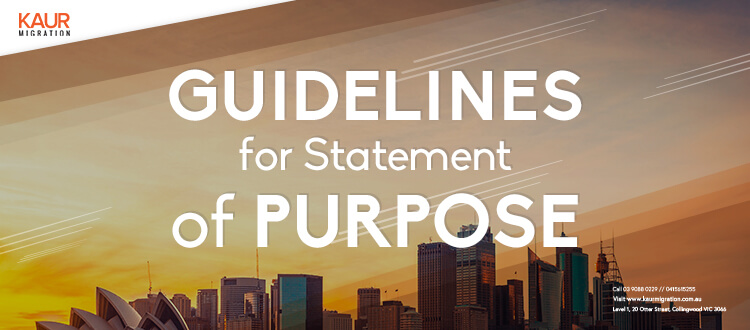 A statement of purpose is a standard requirement for any international student admission. In fact, it is a key tool of an institution to be able to assess the knowledge, experience, motivation, intellectual maturity and readiness of an applicant to pursue education. Therefore, it must be written concisely and comprehensively. Also, it is important to note that it is a crucial and essential component of the admission process. In this article, we have provided some guidelines on how to write an effective and efficient statement of purpose.
Nomination Categories
Research

It is important that you do advance research of the different institutes and their courses by browsing through their websites. Reading brochures and booklets can be helpful too. Right after, don't forget to highlight the aspects of the programs and course that appeal and interests you.

Brief Introduction

Introductory part in every statement is very essential. It must include your full name, birthdate, nationality and your present address. Also you must not forget to include the institution where you intent to study.

Education History

You must provide brief details of your education. This must include your equivalent qualifications to your highest qualification.

Employment History (If applicable)

You must describe your employment history including the name of the company, position and the duration of each job you have held. Include enough details of your employment history especially if the employment is related to the courses you are interested in then please

Be Transparent and Truthful

It is important that you are truthful in whatever you write in your SOP. Therefore, you must give honest reasons for any major gaps in your studies and/or employment history and where possible, attach necessary documentary evidence for it.

State a Specific Reason

You must describe the specific research you conducted which led you to decide on your selected course and the institute. You must state and specify the reasons on why you have chosen the selected program or course of study and why you have chosen to study at that institution. You must also include the full title and duration of the course and the specific location where this course is being offered. You should also be able to identify the career opportunities or professional recognition aligned with the course that you are intending to study. This can be found in the course information and the website of the education provider.

State Relevance of Study/Work Experience

You must state the relevance of the course you've chosen to study in your previous study/work experience. If there is no relevance, at least explain why you are seeking a change of discipline leading to a career change.

Explain briefly why you choose Australia in your study

This is applicable if there are similar courses of the same international standing available in your home country. Therefore, you must provide reasons on why you choose to study in Australia instead. Also explain how this course will benefit you in your future career prospects back in your home country or in other international settings where employment opportunities may be available for you.

Genuine Intention

You must provide clear and compelling reasons for returning to your home country once you've successfully complete your selected course in Australia. In this section, you must be able to show your genuine intention to temporarily stay in Australia as a student and have clearly outlined your plans about your future post‐Australian studies.

Specify Other Matters

You must provide details of any other relevant or critical information that the visa assessing officers would expect you to disclose (details of previous visa refusal/s, unusual sponsorship or financial conditions, reasons for frequent overseas travel, etc.) If possible, attach any documentary evidence to your SOP.

Good Closing Statement

You must have a very good closing statement. In this section, you can write a declaration stating that all you have written on your statement of purpose is certified true and correct and that it is therefore free from any fraud or alterations.

Asking Opinions and Critiques (optional)

After you are done writing your statement of purpose, it is okay to read it out loud to yourself and make necessary corrections. You can also ask the opinion of your friends, colleagues and professors to what you have written. Taking their comments, opinions and advices might be helpful in getting your statement of service done better.
In conclusion to writing a statement of purpose, you must not forget to use positive language when you are referring to yourself. It must be comprehensive and detailed too. You must also use appropriate punctuations, transition words, phrases, sentences and paragraphs. It must be written and read smoothly. Make it simple and concise. Also refrain from repeating yourself. And most importantly, you must have a strong opening and closing statements.
---