Grab your chance to study in Australia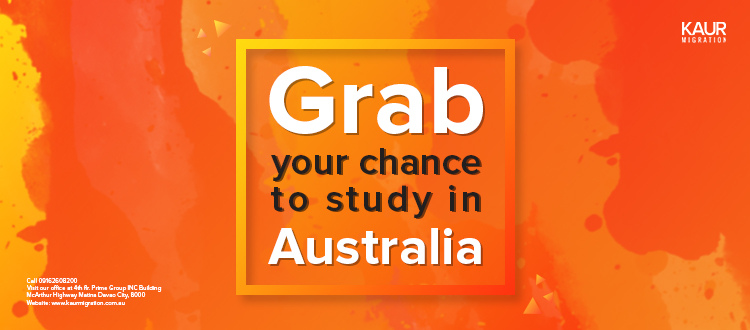 It can never be questioned that Australian Education system is being considered as one of the best in the world, with many different options for students. That's why if you wish to study in Australia you should be well prepared. This article provides you general information about Australian student visa and how can you apply for it.
Student visa (subclass 500) allows you to stay in Australia to study full-time in a recognized education institution.
Eligibility
You must have applied for and been accepted to study in a registered full-time course at an Australian educational institution.

You must have organized an appropriate welfare arrangement for the duration of your intended stay in Australia if you are under 18 years old.

You must meet Genuine Temporary Entrant requirements.

You must be able to show sufficient funds for airfares and living costs.

You must meet health and character requirements.

You must meet the financial requirements as required by the Australian department of border protection.

You must meet the English language requirements and the course entry requirements.
What you can do with this visa?
You can study for a full-time registered course in Australia.

During your stay, eligible family members can accompany you to Australia.

You and your family members can generally work for only a specified number of hours.

You can generally stay in Australia until your course is finished.

You must apply for this visa online.
Just like any other visa, you have to meet certain eligibility criteria when applying for this visa. These are the following:
All your non-English documents must be translated into English.

If you are in Australia - your translator must be accredited by the National Accreditation Authority for Translators and Interpreters.

If you are outside Australia - you must contact the Australian mission in the country that issued the documents for a translator.

Don't forget to scan all the documents needed – both non-English and translated documents.

Attach scanned copies to your online application when asked.

Always provide certified copies of all your documents.

Submit all documents with your application on time or else your application could be refused or a decision on your visa could be delayed
Visa Conditions
You must abide by your visa conditions or your visa could be cancelled. Different visa conditions apply to you and your family members.

You can apply for this visa when you are either in or outside Australia
We give comprehensive information to our students to help them choose the right course, the right institution and the right location for their individual professional and personal needs. Our qualified agent have studied, lived and worked in Australia for many years. They have a very good understanding of Australian laws, culture and environment. We can prepare you for your new life here by providing accurate information. Great opportunities exist for those with the skills, experience and knowledge in this world of globalization.
---