Assessment criteria for Victorian State Sponsorship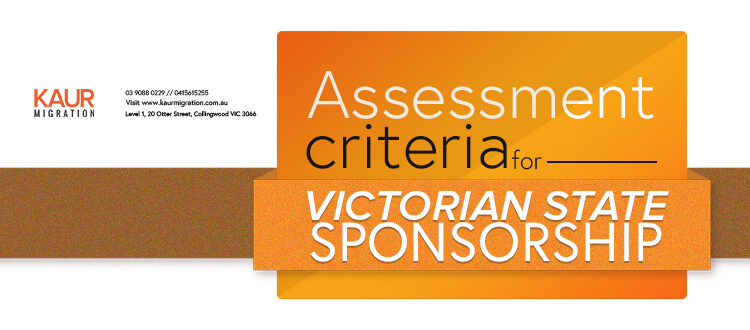 Each application for state nomination is assessed individually with a focus on your ability and you must obtain a suitable assessment criterion for State Sponsorship.
Please be guided with these following guidelines:
This program seeks to magnetize highly skilled and employable professionals and trades people with occupations that are complex to source from the local labour market.
Applications for Victorian state nomination are assessed with these following criteria:
Your ability to meet the minimum nomination requirements
The suitability and transferability of your qualifications, skills and experience – including any specialist capabilities.
Your ability and commitment to establish yourself, and any dependants, in Victoria with a view to your prospects for long-term settlement in Victoria
The demand for your particular skills and expertise, and your ability to find work in Victoria
The demand for your occupation in relation to the annual nomination places allocated for that industry.
There is strong competition for Victorian nomination. Therefore, applicants must meet all eligibility requirements to apply. For detailed application guidelines and eligibility criteria please click the link below http://www.liveinvictoria.vic.gov.au/visas-and-immigrating/state-nomination/assessment-criteria#.V-NKkPB9600
To prepare your application you must have the following documents as a minimum in your application:
A detailed resume or CV
Victorian nomination declaration
A skills assessment
English language test results (if applicable)
Offer of employment (if applicable).
You may be requested to provide additional documents if your application proceeds in the selection process. These documents can include:
Trade qualification/certificates – must be certificated copies
Education transcripts – must be certificated copies.
Evidence of licensing if applicable to your profession.
---