457 Policy Update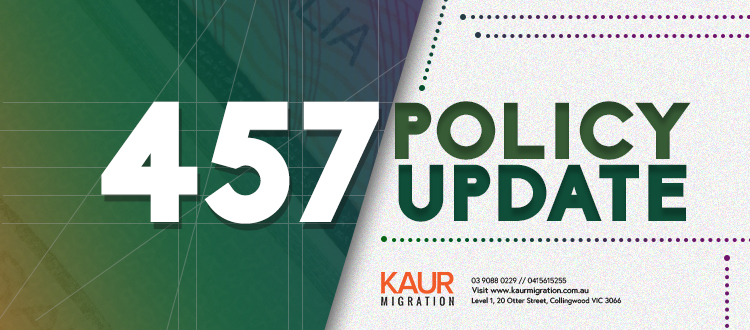 Australia has announced changes to the '457 visa' programme for skilled foreign workers to limit their ability to look for another job after their official employment ends, a move that will adversely affect Indians working in the country.
Starting November 19, 2016 from 90 days, foreign workers on a 457 visa will now only be able to stay in Australia for 60 days after their employment ends.
According to Immigration minister Peter Dutton:
The change is expected to assist in ensuring that the 457 programme met its intent of acting as a supplement to, rather than a substitute for, Australian workers apart from reducing the vulnerability of 457 visa holders, who were only permitted to work for an approved sponsor and were not eligible for unemployment benefits, from entering into informal employment arrangements..
The government was committed to ensuring that Australian workers have priority and to reducing the potential for temporary visa holders to be exploited.
This change is about reducing competition from overseas workers for those Australians who are actively looking for work.
The Government values the contribution made by the many skilled persons who work in Australia on 457 visas, but where there is an Australian worker ready, willing and able to perform a role it is the government's policy that they have priority.
The government's approach compared with that of the former Labor government, which increased the time that 457 visa holders may remain in Australia when they cease employment from 28 days to 90 days in June 2013.
The 457 visa is granted to foreign workers for four years and is designed to fill positions that are difficult to find Australians for, ABC Online.
The range of different occupations on the list from different salary levels and different education backgrounds, includes:
Neurologists.
Midwives
Cabinet makers
Lift mechanics
In the last financial year, the largest amount of visas were granted to cooks.
In fact, the data of foreign workers shows the following:
India (26.8%).
UK (15%)
China (6.6%)
However according to Mr. Francois Crepeau's when he asked about the changes , he said that "for temporary migrant workers getting fired meant going home and it might be difficult finding more work in two months. Returning home with nothing is not an option and the employers know that."
In addition:
He called for strict oversight of the program, especially in the construction, hospitality and agriculture sectors..
He welcomed the involvement of the Fair Work Ombudsman but said it needed to be better deployed and funded.
He said that Employees should be assisted to find another employer, just like other Australians
He said that Migrants must be given the same type of support.
He said that Labor increased the period visa-holders could look for more work from 28 days to 90 when it was in office.
They want to put Australian workers first and there are also jobs where there aren't enough Australian workers where we need to bring in foreign workers on short-term visas
References
---