457 Policy Update – Change to member of family unit definition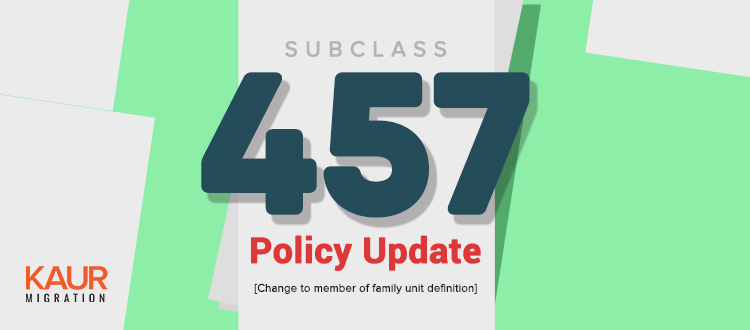 Change to Member of Family Unit Definition
Currently, when you applying for an Australian visa, it is generally possible to include all members of your family. And whenever your application is granted, all included family members of yours would receive visas. However, there will be upcoming changes such as the following:
For applications made on and after 19 November 2016, members of the family unit (MoFU) will be limited to direct family members.
The change will apply to permanent visa subclasses and some provisional and temporary visa subclasses. (The change won't apply to refugee, humanitarian or protection visas.)
In the changes, a person might be a member of your family unit if they are your:
Spouse or de facto partner

Child or step child;

and

have not turned 18

Have turned 18, but have not turned 23, and are financially dependent on you or your partner or;

Have turned 23 and are dependent on you or on the partner as they have a mental or physical disability that stops them from earning a living to support themselves

Grandchild or step-grandchild who is a dependent of a child
Note: A child is not eligible if they are engaged to be married or have a spouse or de facto partner.
Adult Children in Subsequent Visa Application
Starting 19 November, family members will be taken to be members of the family unit when applying for subsequent visas, even if they are no longer dependent. However, this only applies in the following visa subclasses:
Holders of Provisional Business Skills Subclass 188 visas applying for Permanent Business Skills Subclass 888 visas

Holders of Temporary Contributory Parent (Subclass 173 and 884) visas applying for Permanent Contributory Parent (Subclass 143 and 864) visas.

Holders of Temporary Work (Skilled) Subclass 457 visas applying for Employer Nomination Scheme (ENS) Subclass 186 or Regional Sponsored Migration Scheme (RSMS) Subclass 187 visas

Holders of Temporary Work (Skilled) Subclass 457 visas applying for a further 457 visa

Holders of Skilled Regional Provisional (Subclass 489) applying for Skilled Regional Permanent Subclass 887 visas
References
https://www.border.gov.au/News/Pages/member-of-the-family-unit-changes.aspx
Migration Legislation Amendment (2016 Measures No. 4) Regulation 2016
---