4 REASONS WHY YOU WOULD GET REFUSAL OF 457 NOMINATIONS AND VISA APPLICATIONS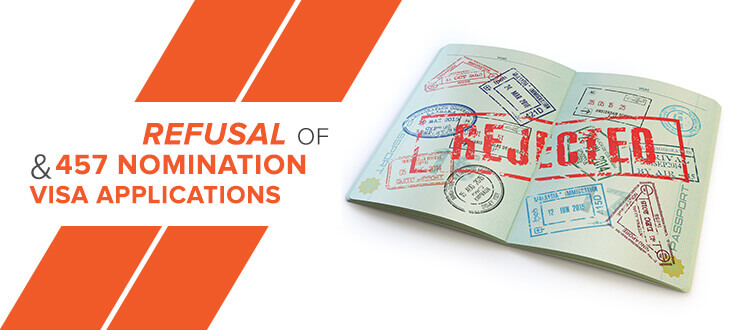 The 457 Progra m if used properly is an excellent way to secure highly skilled staff for your business.
However, the 457 program is under increasing scrutiny by the Department of Immigration. One of the main focuses is the "Genuine Position" requirement. Failing to understand this requirement can result in delays and refusals of 457 nominations and visa applications.
This article explains the main red flags which tend to prompt further investigation by the Department of Immigration.
Reason Number 1 - Occupation
Certain occupations attract a higher level of attention from Immigration, and hence require a higher level of supporting evidence. These occupations include:
Example 1. Cafe and Restaurant Manager
The Department has a policy that the duties of Cafe and Restaurant Managers should include the planning of menus with chefs, as well as the planning events or functions. The Department will also want to see that the business is operating as a cafe or restaurant and not as a takeaway food outlet.
Example 2. Accountants and Marketing Specialists
We have seen the Department target positions nominated as Accountants and Marketing Specialists.The Department's view is that these should be very senior-executive level positions so, if your position involves lower level duties which are not included on the 457 occupation list, they may be inclined to refuse the application.
Example 3. Program or Project Administrators, Specialist Managers NEC
These occupations were previously used frequently as "catch all" options for positions which did not clearly fit in a CSOL occupation. They now require a formal skills assessment, which most applications would not be able to pass.
Example 4. Customer Service Manager
This is another occupation which was frequently used. It is only really appropriate where the sponsored person is responsible for managing a team of customer service staff. It would include hiring, training, setting policies and procedures and other high level tasks. If your 457 applicant is actually serving customers, they are unlikely to be fit under this occupation.
---